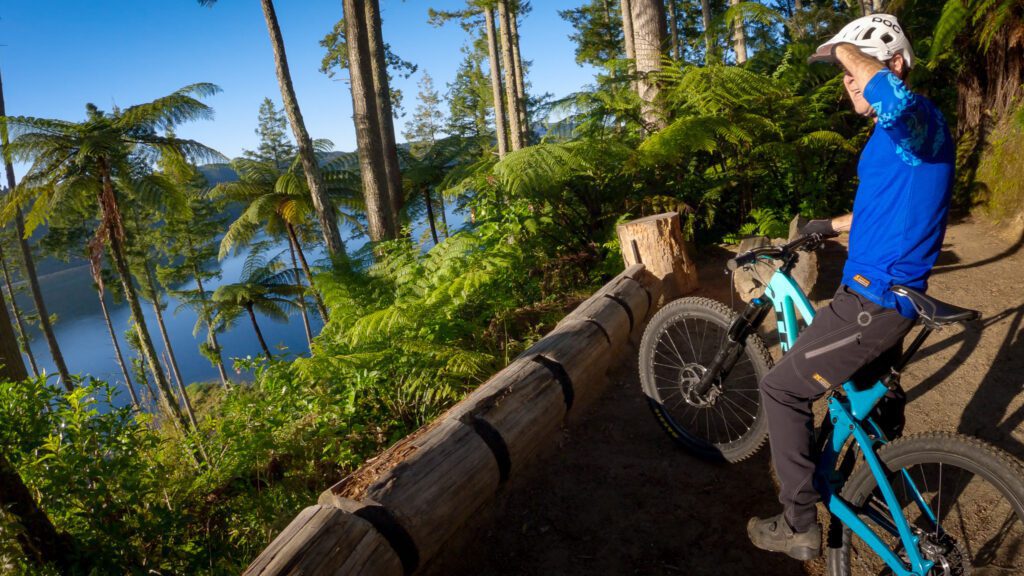 Whakarewarewa Forest Loop – All you need to know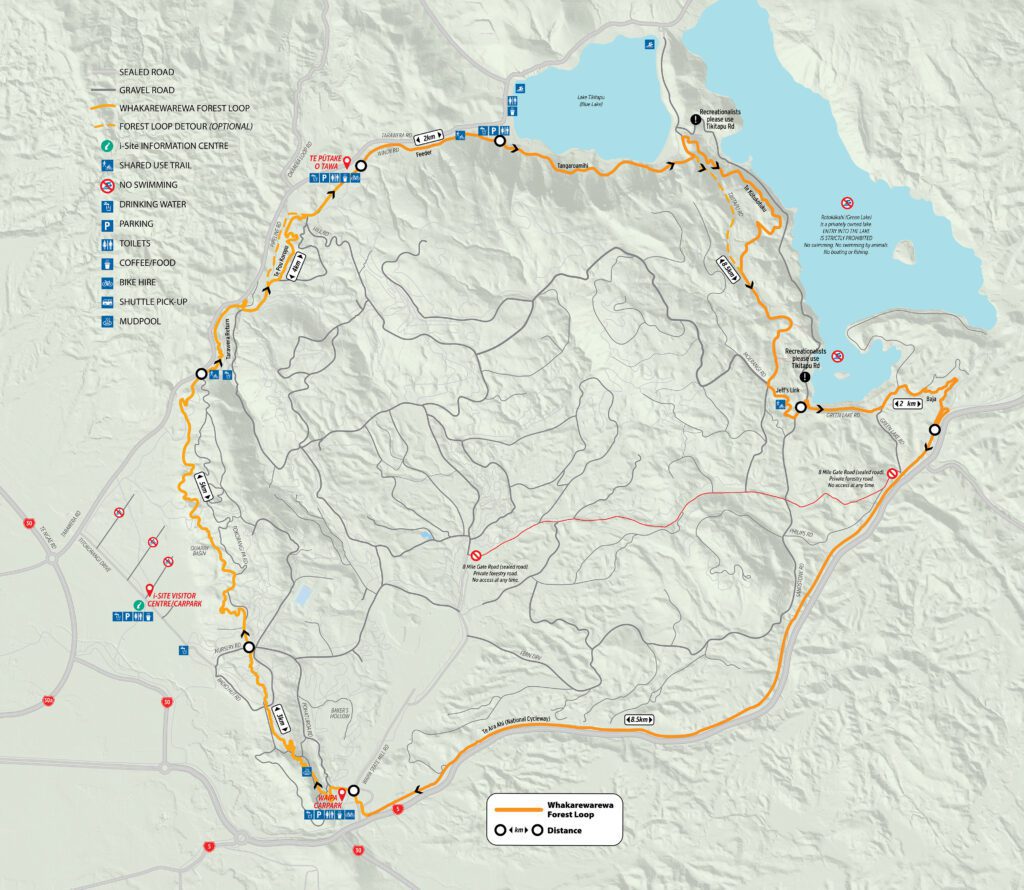 New Zealand's newest Great Ride! The Whakarewarewa Forest Loop is the perfect introduction to mountain biking.
One of the best things to do in Rotorua is to ride the new Whakarewarewa Forest Loop, which has recently earned New Zealand Cycle Trail Great Ride status. 
The Loop is an easy 33km mountain biking trail located in Whakarewarewa Forest (aka The Redwoods) just 15 minutes (by bike) from the city centre of Rotorua, making it super easy to get to and fit around your other activities whilst in Rotorua.
Being mostly a Grade 2 track with a couple of Grade 3 sections mixed in, the Loop is designed to be accessible for everyone. If you're unsure about the grading, check out this description. You don't need to be a serious rider; as long as you're confident on single track. You'll find that the variety that the trail has to offer is super fun. If you are worried about your ability, get in touch with us for a lesson. After that, you will feel more confident to tackle the whole loop.
With 4 points of the trail vehicle accessible, it is easy to bite off smaller chunks to suit your group's abilities. Waipa is a great spot to start with food, hotpools and bike hire all available right there. You could hire an eBike from Electric Bike Rotorua in town and head in towards the Redwoods Visitors Center on Titokorang Drive and escape out onto the trail!  Another very popular spot to start is the Te Putake o Tawa car park on Tarawera Rd. There are amazing art pieces there to check out along with food, bike hire toilets.
What to expect
The trail takes most riders roughly 2.5 to 5 hours, depending on their confidence and fitness. You'll also want to factor in some time to stop and enjoy a coffee, and just enjoy the ride. Just ensure your e-bike is fully charged, and off you go.
There are three spots to purchase food and drinks, four taps to refill water bottles, and three accessible toilet blocks (Waipa, Te Putake o Tawa and Lake Tikitapu). Take your wallet, take your time, and test out all of the food and coffee along the way.
The Trail
Waipa car park – Te Pūtake o Tawa
10.5km, Grade 2/easy, 1–2 hours
Te Pikitanga ki Whangapipiro – Grade 2
Leaving the Waipa car park you'll follow Te Ara a Whero across a bridge that is the start of the trail. You wind your way through a redwood grove as the trail passes the bubbling mud pool this section gets its name, Te Pikitanga ki Whangapipiro. The climb here is the longest in the whole loop, but it only lasts a couple of minutes and is a constant gradient.
Arepa Weherua – Grade 2
The trail crosses Radio Hut Rd and enters Arepa Weherua. Formerly known as the Genisis block, this is where Rotorua's first MTB track was. Now there is a sweet grade 3 trail called Arepa along with a few grade 4's. The trail winds it's way through Arepa Weherua, the land where commercial forestry was first explored in New Zealand. You will come out on Nursery Rd, and your first big intersection. 
Tokorangi Pā Rd – Grade 1
This is your first big intersection. Look to the left as you come out for the Forest Loop Map as the trail continues up the forestry road before ducking back onto single track giving you the first amazing views of town. Keep your eyes peeled for Forest Loop signage as you begin your traverse. 
Te Koromete Titokorangi – Grade 2
As you tuck back into the trees on Te Koromete Titokorangi, you will get your first big view of the Rotorua area. Views of town, the lake, and the surrounding caldera open up at various points along this section. As you continue to traverse the hill face, the trail becomes Tūhua, the Māori name for obsidian which can be seen along the track edge. These originate from the 1886 Mt Tarawera eruption. You will begin descending and go past a big tank. This is a point where you can get off the loop for an easy return back to town via Tarawera Rd. 
Kurawai ki Tarawera – Grade 2
Past the water tank, the trail descends to pine forest via Kurawai ki Tarawera. After a fun couple of kilometres of single track before coming out on Pipeline Rd, stay left, there are a few hundred meters of road before you can make the decision to either continue on the road for a quicker easier option or get back onto the single track of Te Pou Koropū.
Te Pou Koropū – Grade 2
Te Pou Koropū for an extra couple of kilometres of singletrack. The two options rejoin at Te Pūtake o Tawa where you'll be greeted by Hinemoa and Tūtānekai, two of the five incredible taonga created by local iwi artists. This is also where you will find food, water and toilets!
Te Pūtake o Tawa has food and beverage options with bike wash/hire, toilet and shower facilities.
Te Pūtake o Tawa – Te Ara Ahi
14km, Grade 2–3/easy–intermediate, 1–2.5 hours
Before leaving Te Pūtake o Tawa, take time to view the five taonga which share the kōrero (stories) of tūpuna (ancestors) that are important to Tūhourangi people, mana whenua here. All five artists are local and direct descendants of the tūpuna depicted. There are great info boards that help tell their stories.
Feeder – Grade 3
Under the watchful eye of ancestor Umukaria, this mostly grade 2 (easy) section of the loop begins with a couple of kilometres of gravel that leads you on to a track named Feeder, which you continue on. This track more or less follows a path used by the local iwi for hundreds of years. The native forest here dates back 10 the Mt Tarawera eruption in 1886 when the original forest was covered and destroyed by three meters of ash.
Emerging on to Tikitapu Reserve you'll be greeted by a view of the lake – a great spot for a swim, a comfort stop  – along with a small a slipstream caravan where you can get refreshments in the summer. The Top 10 Holiday Park here is a popular holiday spot.
Tangaroamihi – Grade 2
The next trail is Tangaroamihi, named after one of the original inhabitants of the area. Winding through native forest, it traverses the backside of the lake before meeting Tikitapu Road. Here you have two options. If you are getting overwhelmed by singletrack, head right on Tikitapu Rd. If you are loving it, the next trail is a beauty! Head left for 100m to the entrance of Te Kōtukutuku. 
*The easier option – continue to the right on Tikitapu Road, a chilled gravel road that's 1.5km shorter overall. You will then look out for a trail called Jeff's Link on your left (at the intersection of Moerangi Rd).
Te Kōtukutuku – Grade 2
Te Kōtukutuku is a very nice grade 2 trail with lots of flow and great views over Lake Rotokākahi. Be sure to take a couple of photos at the rest stop that overlooks the lake with Mt Tarawera in the distance.
These two options meet again at a large grass area known as the Green Lake Picnic area. Rotokākahi is a private lake for cultural reasons, so please obey the signage and resist the temptation to head down to its shore.
After a kilometre of road through a grove of redwoods, the route veers off towards Baja Trail. 
Baja – Grade 2
After a short climb, this trail descends with some more flow through the pines. This one is the perfect gradient all the way down to the bottom, eventually meeting Te Ara Ahi.
Te Ara Ahi – Waipa
8.5km, Grade 1/easiest, 30 minutes
Te Ara Ahi
You come out of the forest next to State Highway 5 and meet up with Te Ara Ahi, 'the Pathway of Fire'. This wide, smooth concrete path runs parallel to SH 5, skirting around the edges of Whakarewarewa Forest as it returns towards Rotorua city and the Waipa car park area.
While the concrete path might not be everyone's cup of tea, it offers a relatively cruisy, fairly downhill run which will be a welcome relief for those without an e-bike (or if your battery is low!).
*Harder option – There is the option to add a little more flavour to the end of your ride on grade 2-3 single track, you can jump off of Te Ara Ahi at 8 mile road and get onto Phillips Road toward Sandstone Road. Head right, cross 8 mile road into Green Lake Road and you will see the entrance to Taura on your left. Take Taura through to Yellow Brick Road. At the end of Yellow Brick, stay left and you will be able to follow Ball and Chain to the "very safe trail" which leads you back to Waipa Carpark. Be sure to stay off 8 Mile Road as there are no bikes allowed!
Check out our YouTube channel to see the bike in action as I chase people down all of the trails in Rotorua and NZ!
New Zealand Mountain Biking offers trips for a variety of mountain bikers. From half day lessons through to 8 day custom trips for hard core riders – we have you covered. Get in touch to see how we can make your experience in New Zealand one for the history books!
Don't forget to get in touch to come mountain biking in Rotorua. We offer lessons and tours of up to 7 days!