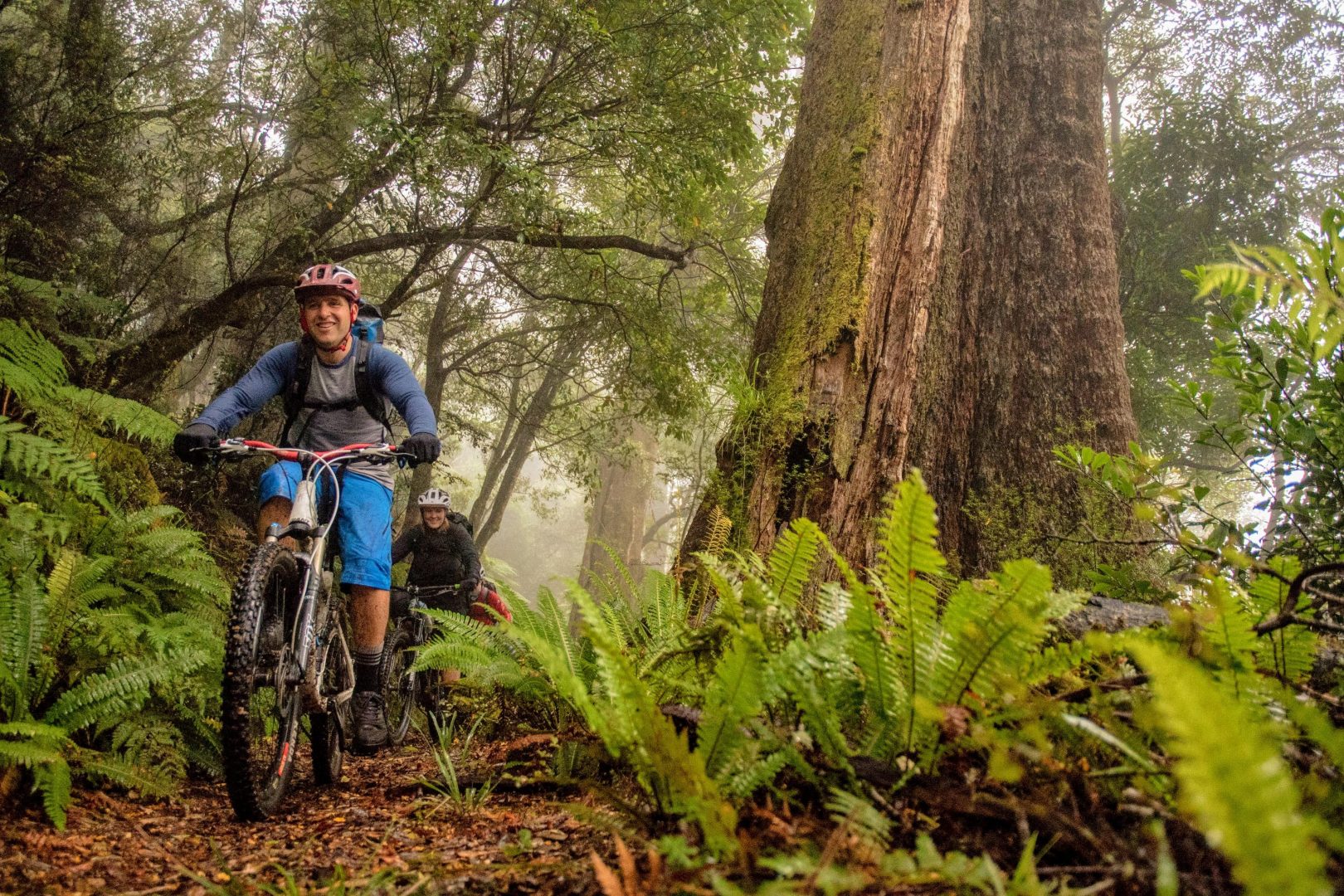 Heli Biking our best backcountry – Whirinaki Forest
How do we make mountain biking even more awesome than before? Add a helicopter flight into the North Island's remote native forest is how! 

Here's how we entered the world of heli biking and added an x factor to our range of trips…

After visiting the area many times before by car foot and bike with clients and on our own, it was time to drop in from above. A short drive from the Mountain Biking Mecca Rotorua and we were at the heli base. Before we know it we are in the air flying over ridge after ridge of the country's best native forest into a remote valley. After a 20 minute flight we arrived at a classic backcountry hut. 

We watch the helicopter disappear over the ridge line high above and find it hard to wipe the smiles off of our faces. Time to get straight into the riding. Giant beech trees, a pristine river and birdsong are all on offer as we ride epic single track. Moderate climbs followed by fun, fast, flowy descents before we arrive at another remote hut for a well deserved break for something to eat and drink.

Then it's time for a proper climb! Thankfully, this part of the trail is in particularly good condition  with the occasional short decent mixed in to give the legs a break and soon we're at Moerangi Saddle. This is where the real descent begins.

With over 500m to descend you can ride it fast or slow with ruts, off-camber corners and giant trees everywhere. This last part of the trail is a blast! A few tight turns make sure that you're paying attention follows, with a short climb in there to give the quads a rest – yes, they need a rest! Before we know it we're in the Whirinaki River Valley with Kaka squawking from the trees above and the beautiful Te Whaiti-Nui-a-Toi Canyon to get another great photo and have another amazing "wow' moment before the gentle ride back to the pick up at the end of the road!

High fives all around and it's time for a beer and the ride back to Rotorua. If you're looking to do something a little different while in Rotorua or nearby, do it on two wheels! Find out more.